First off, we added it to our DVR because DirecTV gave us a free HBO/Cinemax weekend, and Stephen hadn't seen it, and even though I
thought
I had, we added it to the queue anyway, because reasons. Secondly, having watched it together tonight, we
know without a doubt
that we will
own
this fucker on Blu-Ray, because it is Damn Good. C: I had not yet seen this film; there was not a familiar frame about it; I was confused because
Interstellar
(from the previous year) also starred Matt Damon and Jessica Chastain. 4: There is no 4.
So let's get to
The Martian
, shall we?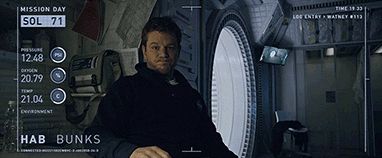 Three Good Things:
If you only know Matt Damon from the Jason Bourne movies, or Any/All of his work with Ben Affleck, then you are seriously missing out. The man is a genius. He can do Boston; he can do action; he can do drama (see The Informant!); he can do science-based-sci-fi-that-is-also-incredibly-funny (i.e. "comedy")
If you don't typically bother with sci-fi because it's too "fi" and not enough "sci", you should definitely see The Martian. Lots of sci. Loads of sci. Scads of sci. And not ever in a "wait, I have a liberal arts degree so all this science is too technical for me to get" way. Always good.
Do you like your actors floating through the scenes? This movie has it. Do you like your actors to cuss, but not too much? Matt only actually says "Fuck" ONCE, and not when I was expecting it, so they were able to keep their PG-13 rating. Do you like to laugh at impossible situations that, if you couldn't laugh, you'd be sobbing over? DONE.
See this movie, kids. I'm not even joking. It was awesome. It was funny. It was sciency. It was clever. It had cool camera angles. I never felt like I was ready to barf from the handheld work (honestly, if it was ever handheld, it was subtly done, which is how handheld camera work should be). It was as NASA as I needed to be, and in the watching of it, I had an out-loud thought of my trumpet-playing band-leader friend who also happens to be a rocket scientist. If a movie "loses" you to the real world for a sec, who better to think of than your trumpet-playing band-leader friend who also happens to be a rocket scientist?
Have you already seen this movie and you Neglected To Remind Me To See It? Or have you NOW added it to your playlist/queuey thingy of sorts? You need to tell me YOUR opinion, because CLEARLY, if you are a real human being (not a robot), you OBVIOUSLY love it as much as we did tonight! Tell me!