I told you about my
stress of planning
for my big milestone birthday.
I reported on the
events of the weekend
of my big milestone birthday.
I told you about the fall I took in my own damn living room, just outta the blue, and
the injuries I sustained
. I told you about the left side of my body overcompensating for the injuries on the right side of my body, and the pain I was experiencing in my left foot, every time I went for a walk (which is, of course, daily).
I tweeted that my pain seemed to be abating, YAY, but NOW I have a heat rash! Exhibit A:
Finally nearly rid of foot pain; now have heatrash in both elbows. A/C ineffective; taking break from online project for Very Cold pool! :)?
I've often stated that, given the choice of extreme temperatures, meaning,
I have to choose which end of the "extreme" temperatures spectrum
I will spend the rest of my days in (I dunno, like, say, in Purgatory?), I would 100%EveryTime choose "hot" over "cold".
My body doesn't sweat much, unless I'm exerting myself with physical activity and/or the temperatures/humidity are particularly "high". I endure warmer climes pretty well, compared to others. I Do Not endure cold very well. I whine and complain and bitch and moan if the temperature drops below 74º. I'm not kidding. I mostly hate air conditioning, because people will set that bitch to a "balmy" 65º and I'm wrapped up in long johns and sweaters and electric blankets (which I also hate).
So, given the "choice", I always say, let me be nekkid and sweatin' my ass off and Can't Get Cool any day, over Bundled to the Nth Degree so that I Can't Move my Arms but still Frozen to the Bone.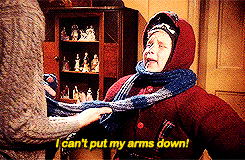 Which leads me to today, Day Two of Three (or possibly Four) of Triple-Digitº Fahrenheit. I'm not kidding, kids. It's HOT. We've got our sad little wall-unit A/C running (at 75º, natch), and fans blowing in every room, even OVERNIGHT, because it's Hot.
Exhibit B:
Left Elbow. The worst spot. Itchiest,
Most Bumpiest and Reddest,
Oozy and then Crusty. FUN! (not)
left wrist. kinda bumpy,
occasionally itchy. worse than

right wrist. almost can't even see the
bumps, which barely itch at all.


*****
Oh, and all the fresh fruit I'm eating lately must be doing something, because Loose Stools. Yay. NO Exhibit C. ;)



Whaddya got? Better? Worse? Another Damn Thing?